Right click here to download it!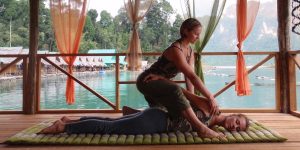 Sunny Klaber, CMT, MS is a devoted massage therapist and educator, an enthusiastic yogini and dancer, and a passionate environmentalist with a penchant for adventure travel. Sunny's favorite massage medium and the common thread flowing through the Integral Travel programs is Thai Yoga Massage. Since 2001, Sunny has been making annual journeys to Thailand to continue her studies, and has returned to develop and teach the Thai Yoga Massage curriculum at several institutions including the Boulder College of Massage Therapy, Cortiva Institute, The Center for Massage and Natural Health, and the Costa Rica School of Massage Therapy.
Sunny's contagious passions for yoga, dance, Buddhist philosophy and massage strongly influence her unique approach to practicing and teaching this ancient healing art. Her extensive knowledge of and respect for these disciplines creates an environment which honors the sacred roots of Thai Yoga Massage, while infusing it with fresh applications and innovations.
Links mentioned during podcast: